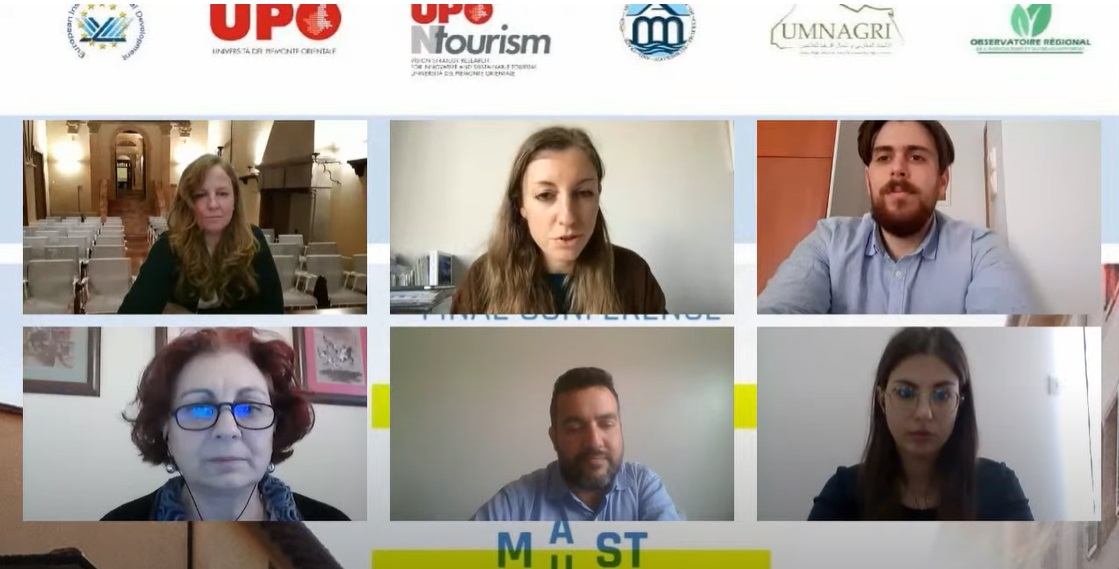 A final online conference held last Friday, March 25, brought to a close the MAST project, the Mediterranean Alliance for Sustainable Tourism, a project funded by UfM for Employment Promotion.
The conference, entitled "M(U)AST BE ACTIVE – Towards Sustainable Tourism in the Mediterranean", was broadcast live on the official Facebook page of MAST and on the Youtube channel of the Association Ars.Uni.Vco.
After the initial greetings, the partners of the MAST project presented the work done in recent months and the future prospects of a project that, we recall, was born with the aim of encouraging the emergence of new models of sustainable development for the post-Covid era.
Three guests, all experts in the tourism sector, then took the floor. Maria Elena Rossi, Director of Global Marketing and Promotion of ENIT, the Italian National Agency for Tourism, spoke about new approaches based on sustainability for the development of future tourism.
Khaled Ben Rejeb, Communication and PR Specialist for the Office National du Tourisme Tunisien, has instead brought attention to the current situation and medium-term prospects of sustainable tourism in Tunisia.
Prof. Giampaolo Viglia, university lecturer, Editor-in-Chief of the American journal Psychology & Marketing, and one of the Associate Editors of the journal Annals of Tourism Research, then spoke about the ways of measuring real behaviors to assess sustainable tourism practices planned for the near future.
The conference ended with the presentation of the winners of the MAST competition, who were asked to present a project or a business idea related to sustainable tourism models to be relaunched in the near future.
This concludes in the best possible way a project that, from now on, will be able to "walk" on its own: with new business ideas to be developed, and a new community of entrepreneurs, professionals and tourism operators, that also through the launch of some permanent discussion forums, will be able to build the new tourism demanded by the world and by the next generations.