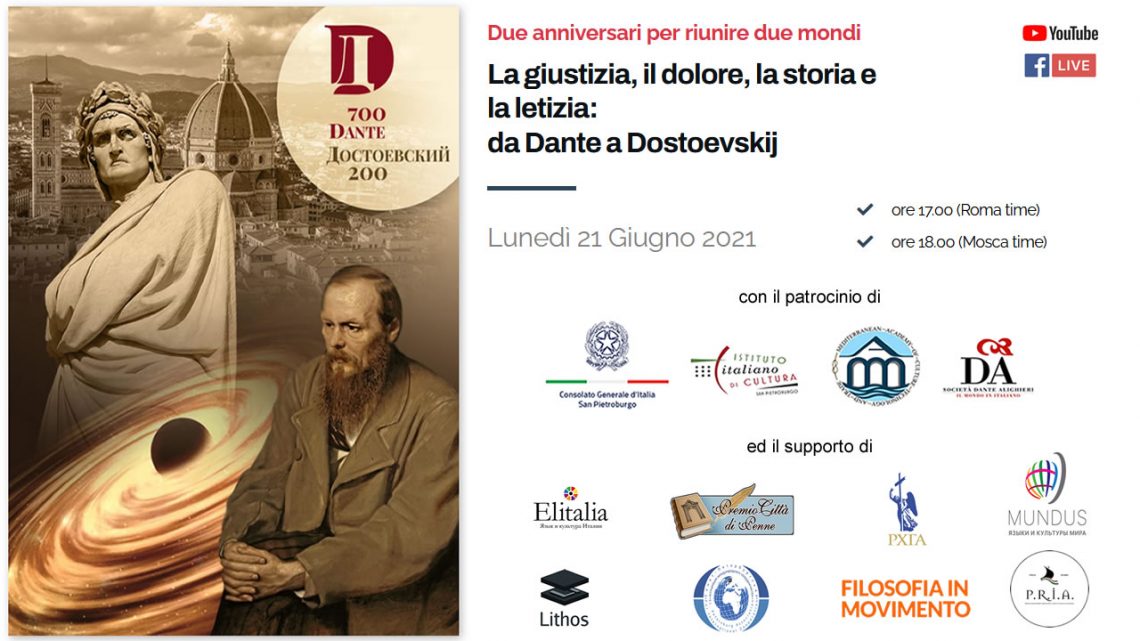 The Mediterranean Academy of Culture Technology and Trade NGO is pleased to present a new cultural event to celebrate two important anniversaries for the literary world: 700 years since the death of Dante Alighieri and 200 years since the birth of Fyodor Dostoevsky.
The meeting, entitled Due anniversari per riunire due mondi – La giustizia, il dolore, la storia e la letizia: da Dante a Dostoevskij is scheduled for Monday 21 June 2021 with live broadcasts at 5 p.m. (Italian time) and 6 p.m. (Moscow time). For the first time there will be a connection between Italy, Russia and Malta to talk about the parallels between two literatures and two cultures that have marked the history of two civilisations.
During the event, the following books, published in Italy and Russia, will be presented:
by Stefano Maria Capilupi: "Il tragico e la speranza. Da Manzoni a Dostoevskij" (Lithos editions, in Italian) and "La Catastrofe e la Provvidenza nel romanzo europeo" (Aletheja editions, in Russian)
by Kristina Landa "The Poetics of Joy in Dante's Comedy" (Aletheja editions, in Russian) and "The Divine Comedy in the Mirror of Russian Translations" (RHGA editions, in Russian)
Speakers will be:
Prof. Stefano Maria Capilupi – Associate Professor at the Russian Christian Academy of Humanities and Visiting Professor at "Leti" State University of St. Petersburg
Dr. Kristina Landa – Researcher (RTDA) at the University of Bologna, Department of Interpretation and Translation, Forlì Branch
H.E. Alessandro Monti – Consul General of Italy in St. Petersburg
Ljudmila Viktorovna Bogatyreva – Associate Professor and Editor of the series "Pro et Contra" of the Russian Christian Academy of Humanities (RHGA, St. Petersburg, Russia)
Tatjana Savkin, Director of the publishing house Aletheia
Moderator of the event will be Dr. Giovanni Guarise, Secretary of the Mediterranean Academy of Culture, Technology and Trade Ngo of Malta.